---
Welcome to the NCC website.
In Vermont, conservation commissions are advisory bodies that exist in many towns across the state. Broadly, they are established to help communities protect and enhance their natural resources.  The projects that a town conservation commission can become involved in will vary depending on the needs of the community.
Newbury's Conservation Commission has been active for many years.  Members are appointed by the Select Board for three year terms.
---
NEWS FLASH!     
PRESS RELEASE
General Assembly – 115 State Street – Montpelier, VT 05602 – 802-828-2228 – Fax: 802-828-2424
FOR IMMEDIATE RELEASE
Date: September 22, 2017
Contact: Agatha Kessler
Phone: (802) 828-2231
Fax: (802) 828-2424
E-mail: akessler@leg.state.vt.us
Senate Committee on Agriculture Public Meetings regarding
Rural Economy, Agriculture and Forestry
The Senate Committee on Agriculture is holding meetings this fall to gather from the public recommendations for improving the rural economy of the State. Specifically, the Committee on Agriculture requests suggested ways or actions to encourage the growth or increased productivity of Vermont's farming industry, forest product industry and rural businesses.
YOUR INPUT IS VERY IMPORTANT.
The Senate Committee on Agriculture will hold public meetings around the State this fall to hear your comments on this topic. The meetings will be held from 2:00 – 4:00 PM on the following dates and locations:
September 28, 2017
St. Albans Town Office
Boardroom
579 Lake Road
St. Albans, VT
October 3, 2017
Barton Village Office
17 Village Square
Barton, VT
October 4, 2017
Newbury Congregational Church Vestry
4915 Main Street South
Newbury, VT
October 11, 2017
Hartford Municipal Building
Room 2
171 Bridge Street
White River Junction, VT
October 12, 2017
Salisbury Town Office
25 Schoolhouse Road
Salisbury, VT
---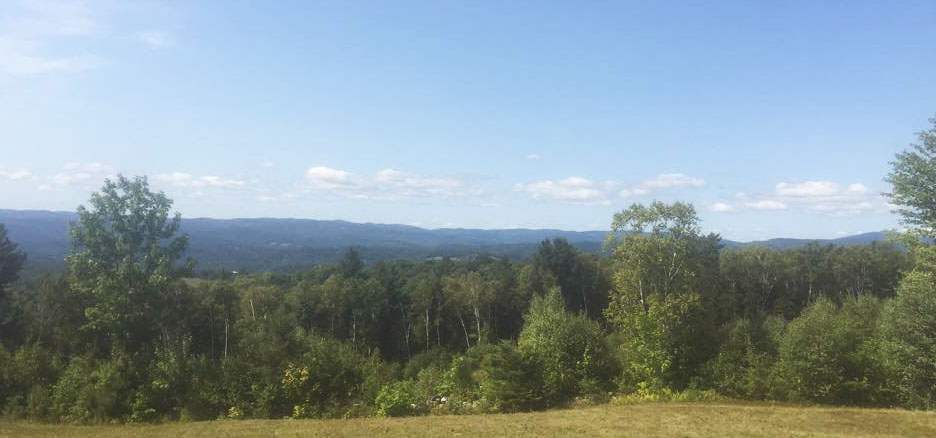 THE ONCE-IN-A-LIFETIME OPPORTUNITY TO CREATE A NEWBURY TOWN FOREST
The Vermont Land Trust, the Newbury Conservation Commission, and several community members are working together to protect the forestland on both sides of Tucker Mountain Road. The Leach family has generously offered the Tucker Mountain property to the Town of Newbury at half of fair market value, so that it might become a 635-acre Town Forest. Most of the funds needed for the Town to own the land have already been raised, but first, residents of Newbury will vote on the proposal for a Town Forest at a special Town Meeting on Tuesday, September 26 at 7:00 p.m. 
We want your input!  All constructive thoughts, ideas, and concerns are both welcome and needed.  Let us hear from you.  If you are a resident of Newbury, please take this survey to share your thoughts with us.
This opportunity would:
Secure permanent public access for recreational uses such as hiking, hunting, picnicking, and snowmobiling.
Generate revenue from forestland managed for timber harvests and maple tapping. Our calculations suggest that the forgone municipal tax revenues would be on the order of approximately $6,100. However, we have estimates of timber values that would offset the loss of tax revenue.
Improve protection of wetlands and the West Branch of Halls Brook, ensuring clean water and healthy brook trout habitat.
Allow for area school outings and opportunities for learning and natural resource management training.
Give the community control over uses on the property, and those uses could evolve over time as community evolves or learns what is working and what is not.
Mean that Newbury joins other Vermont communities, 168 out of our 251 towns, in owning a town forest.
---
NCC Goals for 2017 –
NCC will continue our "Public Outreach" by working with local educators at Newbury Elementary School and Blue Mt. Union. NCC will continue hosting educational workshops to increase community interest and involvement in local conservation efforts.
NCC will work towards establishing a Town Conservation Fund. This fund could be used as a match for grants, improvements for our trail networks, educational programs for our community and schools, or to support NCC members attending workshops, etc.
NCC will work towards improving our town forests by reviewing the forest management plans, and work towards developing a town forest policy that balances conservation, recreation, public access , education, and good forestry stewardship.
NCC will continue improving our webpage and social media presence in order to reach out to residents and visitors to promote events, provide information, and share pictures, stories, and adventures in and around Newbury. This is a great opportunity for everyone to get involved!
---